The Romantic Moselle River tour , Summer 2023
The Moselle is a river flowing through France, Luxembourg, and Germany. It is a left tributary of the Rhine, which it joins at Koblenz. A small part of Belgium is also drained by the Moselle through the Sauer and the Our. The source of the Moselle is at the western slope of the Ballon d'Alsace in the Vosges mountains. The Moselle flows through the Lorraine region, west of the Vosges.
Further downstream, in Germany, the Moselle valley forms the division between the Eifel and Hunsrück mountain regions. Its total length from source to mouth is approximately 546 km and rowing is possible shortly after Metz.
The German part of the river is a very romantic part, with small villages and Cities to visit. Not neglectable are the vineyards and wines you will find between Perl, Trier and Koblenz.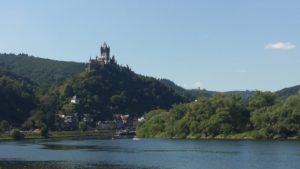 Nobody knows this area better than Rowing in Europe. Our Rowing is very interesting. You will pass 3 countries, not too many locks, but marvellous view of vineyards. Low traffic from some cargo ships, not too many locks. Visits of castles nd Vine tasting tours are possible.
Our Tours will start either in France and Luxemburg or in Germany.
The 6/7 days tour is most common and starts some Kilometers after the French Border and bring us to the ancient city to Trier. We will have time to do sightseeing and enjoy the ancient Roman buildings. Rowing further will bring us to one of Europe's best white wine vineyard's. We will stop in Bernkastel and Cochem and if you like we will do some wine tasting or visit castles. Koblenz will be our final destination.
Visit this city and enjoy the "oldtown" area with wonderful historic buildings. During our trip, we will stay in small hotels or Guesthouses. Very romantic tour. Bring your Partner.
The tour is designed for partners who like biking. Rowers and bikers do the same daily trips.
Register here: Application-Forms-16