Rowing on the North Sea and in the Wadden Sea. Holidays at the UNESCO World Heritage Site
Coastal rowing on the North Sea.
Come and row with us. For the first time in the program our Coastal Island Hopping.
Amrum, Föhr, Sylt or Pellworm. We row from island to island using the tides in the Wadden Sea.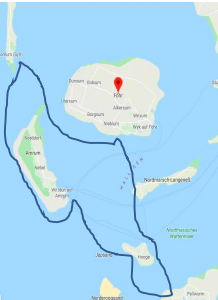 Our 3-day rowing event lets us enjoy the world of the North Sea. The focus is on daily rowing. The distances between our destinations are approximately 25-28 KM. Fancy a rowing break on the Halligen? Or for lunch in Pellworm? We start on Föhr, visit the Halligen, Pellworm, Amrum and Sylt.
After rowing, we can walk barefoot across the sea floor, cycle with a tailwind over green dikes or enjoy the healing power of the sea with a thalassotherapy treatment.
The coast from the mouth of the Elbe in the south to the Danish border in the north is a holiday destination for connoisseurs. Attractive coastal towns and a fascinating island and Halligwelt invite you to enjoy exciting holiday experiences.
Gourmets enjoy regional products, rowers or active travelers are waiting in front of and behind the dikes from surfing and kiting to Nordic walking and cycling. Endless beaches invite you to linger. A holiday at the Wadden Sea World Heritage is an unforgettable experience.
Dates:
Tour 1: Tour check in: 01.5.2020, 7.00 hrs, Tour Ende 03.5.2020 15.00 hrs
Tour 2: Tour check in: 15.5.2020, 7.00 hrs, Tour Ende 17.5.2020 15.00 hrs
Price:
Prices: From 650.00 Euro/person.
Boats: CO 4x/+, und CO2X
Services: 4 nights, boat places in coastal boats, safety boat, lunch
Reservation:
Please contact us for further information!
Email: volker@rowing-in-europe.com
Contact formula: Contact