China Fuyang Area
Qiandao Lake west of Hangzhou
Rowing in China – The Qiandao Lake (Thousand Island Lake and Fuyang River)
In Cooperation with our partners in China we are offering this unique opportunity to row in China.
Once you arrive in Hangzhou, we will show you the city with its remarkable architecture and fantastic Building style. After this sightseeing opportunity, we will transfer you to Fu yang city where we meet a Rowing Boat builder.
And you will row the latest edition of rowing boats at the Fu yang river. The Fu yang river is a save, clean and
sometimes busy river, where you meet private Chinese Family boats as well as river cargo boats. As for the rest of the tour: A safety boat will be with you.
Our real rowing adventure will start at day 2 on the lake Qiandao, a human made lake. This lake is the fresh water source  for the Cities of Shanghai and Hangzhou. Due to its renaturation and the building of the dam, many small island popped up and gave the lake a unique structure.
We will row on the lake, might see the Chinese national Team or visit National Rowing centers of excellence.
Off course we will meet local rowers, have joint meals with them and watch them  exercise for the Tokyo Olympics. Accomodation in 4* Hotels.
Rowing in China Tour:                                                                              Dates in 2018
Incl:
7 Nights in 4* Hotel and breakfast                                                          April 14-21.2018
·         5/6 day rowing adventures,                                                      Sep 29 – Oct. 08.2018
·         Local  tour support, sightseeing
·         Boat rental and safety boat                                                      "German/English/Chinese speaking tour"
·         DBL Room accommodation
·         Lunches, Dinners
·         Welcome Management Dinner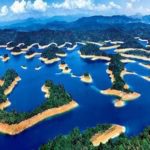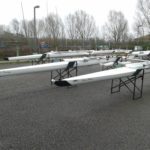 Well— China is a very unique country. We will be facing many surprised – to the goo. Our local hosts will make sure that every day will be enjoyable.